New Building – HOL Ship Service
HOL Ship Service teams work hard to make sure that you get the best offers and services. Find out more about the support and products offered by HOL Ship Service.
HOL Ship Service offers a complete service for on-site inspection supervision. We offer ship owners a highly professional site team who is available during the whole building process to keep control on site and ensure that the plan and time schedule is followed. During the building process we perform inspections of among others;
Hull
Painting
Machinery
Piping systems
Electrical systems
Automation
Cargo equipment
Accommodation
To ensure the building project are developing according to the schedule and plan, our site team participate in meetings with the shipyard. Topics for these meetings will normally involve weekly and monthly progress plans and remarks discovered during the building process.
Our site team will have a continuous communication with the ship owner to ensure the owner is updated at all time concerning current status, results of inspections, tests, Factory Acceptance Test (FAT) and sea trials. The owner is provided with Minutes of meetings, inspection- and project reports according to agreed intervals.
We ensure that all documents, drawings and certificates are issued and reviewed according to rules and regulations and owners Safety Management System.
Below is a demonstration of the company structure and HOL Ship Service site team: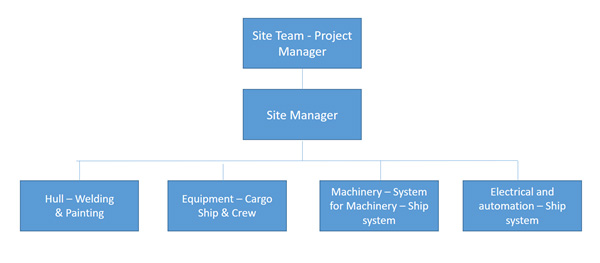 ---
Design services
HOL Ship Service offers quality ship design and support for the customer's unique projects. Our mission is to design the best possible vessel, and oversee all the aspects the process (design, equipment choice, procurement, systems engineering, integration, etc). We offer a wide range of quality design services to our customers.
Please contact us if you have questions or want to know more information.
Phone: +47 908 77 035
Email: hol@holssas.com
---
Agency in Turkey – HOL Ship Service Turkey
HOL Ship Service also operates as Agent for Ship owners in Turkey.
As Your vessel agent in Turkey we will guarantee the quality harbor coordination and communication with local authorities. We will act as a charterers nominated agent and ensure the protection of the charter's interests; expedite vessel's port call and cargo operations; prepare bills of lading and cargo documentation.
HOL Ship Service Turkey
Email: Turkey@holssas.com
Phone: +905448455141
---
Crewing services
HOL Ship Service offers qualified crew members services of all ranks in the maritime industry to ship owners/managers. We work along with the network of agencies worldwide. Our staff Is multinational, multilingual and highly-experienced.
Our Crewing Agency guarantees:
Support with and verification of crew members' documentation;
Medical examination arrangement;
Visa obtaining and flag state application support;
Working clothes, uniform supply, etc.
HOL Ship Service stands for the professional crewing agency operations, dynamic approach to the inquiry, quick mobilization of the required crew members. We work to make sure we meet all requirements of our customers.
Seafarers, searching for the job, are welcomed to fill in the Application Form
---
Chemical
---
Port/sea service
We have technicians available to assist owners, technical management, repair yards, new buildings shipyards, and Dry-Docking facilities – worldwide.
Our team of service engineers are ready to assist with ship repair services worldwide for major overhauls and emergency repairs – 24/7.
In addition, we carry out engine work, El-work, Steel work, sandblasting and painting. We aim to offer a complete service for our customers and provide quality service in line with the best prices in the marked.
In order for us to provide our customers with the best service, we plan all jobs before arriving on site. Work lists, repair manuals and general briefings with our service engineers and technicians are prepared and performed by the project manager for the job. For special jobs and/ or long term contracts, specific training is given to our staff.
Health and safety is a high priority for us and we therefore ensure our service engineers and technicians are trained for the jobs to be done. Additionally, they are all equipped with protective clothing and medical insurance.
We have a worldwide network of companies offering marine equipment and spare parts to ensure that we can deliver a complete service for our customers operating in all types of trade.
---
Dry Dock & Ship Repair Services Worldwide
HOL Ship Service is focused on establishing long-term relationship with customers and is offering the following services worldwide:
Dry Dock services
Ship Repairing& Consultancy
Safety Services
Technical Supply
Our team aims to provide quality ship repair services around the globe and meet the expectations of the customer. HOL Ship Service is ready to assist the ship owners in any problem or technical issues, like main engine breakdown, hatch covers problem, fuel problem, etc.
We stand for: immediate response, fundamental analysis of the issue, and organizing the ship repair process in the effective, cost and time-efficient way.
Marine ship repair with HOL Ship Service implies end-to-end feedback to the ship owner and completion with a detailed and accurate reporting. We aim to provide the ship repairs at competitive costs and guarantee following the requirements of the customer.
---
Ship Brokering
HOL Ship Service brokering services include as follows:
Assistance in vessel buying/selling at all the stages of the process as well as support with the concessions;
Evaluation of the vessel/ concession/ shipping company;
Support with the councel when contracting a new ship.
Purchase, selling, contracting processes differ from each other and it is important to know the nuances and details of each separate process. Whether you are a buyer/ a seller– we ensure the best practice and completion of the trade in the way possible.
For more information or to get a consultation, please contact us.
---
Technical service / Man power for shipyard and ship-owners
HOL Ship Service can supply workers / man power from Poland, Romania, Ukraine. In case of team full package, we arrange the foreman and can also arrange necessary tools and equipment.
Also we offer experienced manpower for hydraulic works and quick service team mobilization.
---
Ballast water treatment system (BWTS)
HOL Ship Service offer a complete BWTS solution. The key for handling the retrofit of BWTS is to know the mandatory / compulsory BWMC requirements and in this respect – save time and cost for owners.
HOL Ship Service take care of the complete retrofit process which include:
– Engineering and documentation
– Pre-fabrication
– Delivery of equipment, material and manpower including supervisor.
– Commissioning including training
– Class approval
The installation / service can be carried out during a voyage, in port, at anchorage or at shipyard. Fixed price agreement including financial options. HOL Ship Service offer the best complete solution for a very competitive price and terms of delivery.
For more info, please contact HOL Ship Service;
E-mail: bwts@holssas.com
Mobile: +47 908 77 035
---
Engine Troubleshooting
Engine problem – Troubleshooting
HOL Ship Service offer remote troubleshooting to determine the engine problem before ordering spare parts and service. The evaluation of the engine problem can be done by direct contact with crew onboard or via the office. By defining the real engine problem before ordering spare parts or service, companies can save both cost and time.
Remote troubleshooting will reduce the cost for service and issues with engine(s) onboard.
HOL Ship Service can also offer an analysis of the engine performance. This will optimize the engine performance, reduce maintenance work and save fuel. Wrong adjustment of your engine will increase fuel consumption and require more spare parts and service.
For more information or assistance with engine problems, please contact HOL Ship Service:
Mobile: +47 908 77 035,
E-mail: hol@holssas.com
---
Planned Maintenance
Shipping companies are using time and money on maintaining their fleet. This is normally done according to the Company's Planned Maintenance System (PMS). Different types of systems are in use, and normally there are many complains from onboard and ashore about the system. The main problem is normally not the system but the way the system is used.
Below is a list of some typical problems we experience that companies struggle with in order to have an efficient and good implemented system;
1. Too many work orders
2. Lack of information given after completion of jobs
3. Incorrect intervals implemented in the system
4. A need to remove Work Orders (WOs) or merge them with another WOs
5. Establish and implement a used friendly PMS
To ensure that you at all time have a well-functioning and efficient system it is important to evaluate the system and its effectiveness.
HOL Ship Service can assist companies with a complete PMS service for a fixed price. Our service includes an evaluation of the PMS, and assistance to update and maintaining the system. In cooperation with the company we will develop a detailed report containing suggestions for improvements to improve the efficiency of the system.
Maintenance work:
An efficient PMS is saving time and money/cost by reducing downtime for maintenance work to a minimum.
HOL Ship Service can arrange and carry out all planned work onboard in line with agreed specifications for a fixed price. This will reduce the risk and all work will be carried out according to budget.
For more information, please contact HOL Ship Service:
Mobile: +47 908 77 035
E-mail: hol@holssas.com
---
Management cost savings
Sometimes it may be difficult to get a deep insight into own operation to get a clear indication where cost savings may be achieved. Lack of planning or ineffective decision making are some of many reasons which may cause companies to overpay for products or services. HOL Ship Service can perform an evaluation of the technical performance in your company to define the best practice to enhance efficiency, reduce risk and cut costs for your company. We can issue a report which will highlight potential areas for savings and improvement. Together with the company we can also review bigger contracts to ensure prices, terms and agreements are according to the marked price.